Treat your table as an art project, allow yourself to plan ahead and try out different options. Take photographs of all your options, a great trick because then your next couple of dinner parties or family suppers will be all set and ready to go. Like when you prepare your meals for the busy work week =) plan ahead.
DIFFERENT INSPIRATIONS
Inspiration fun and colorful tea towels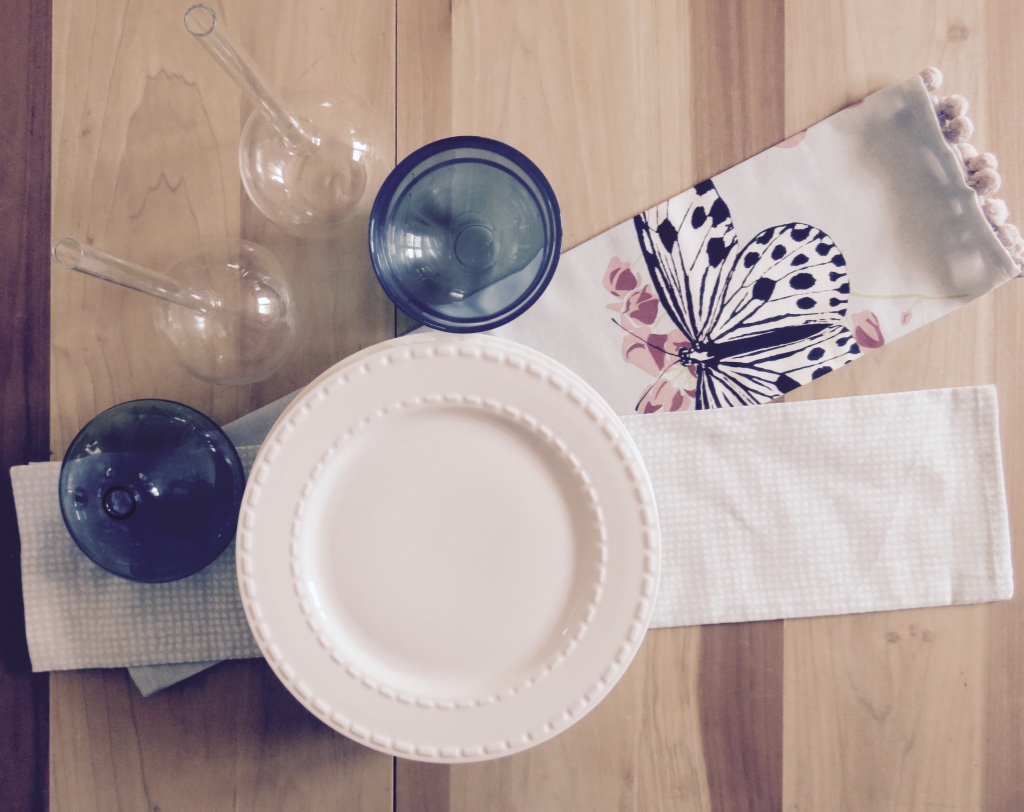 Inspiration oversized leafs and an oversized gold tinted accent plate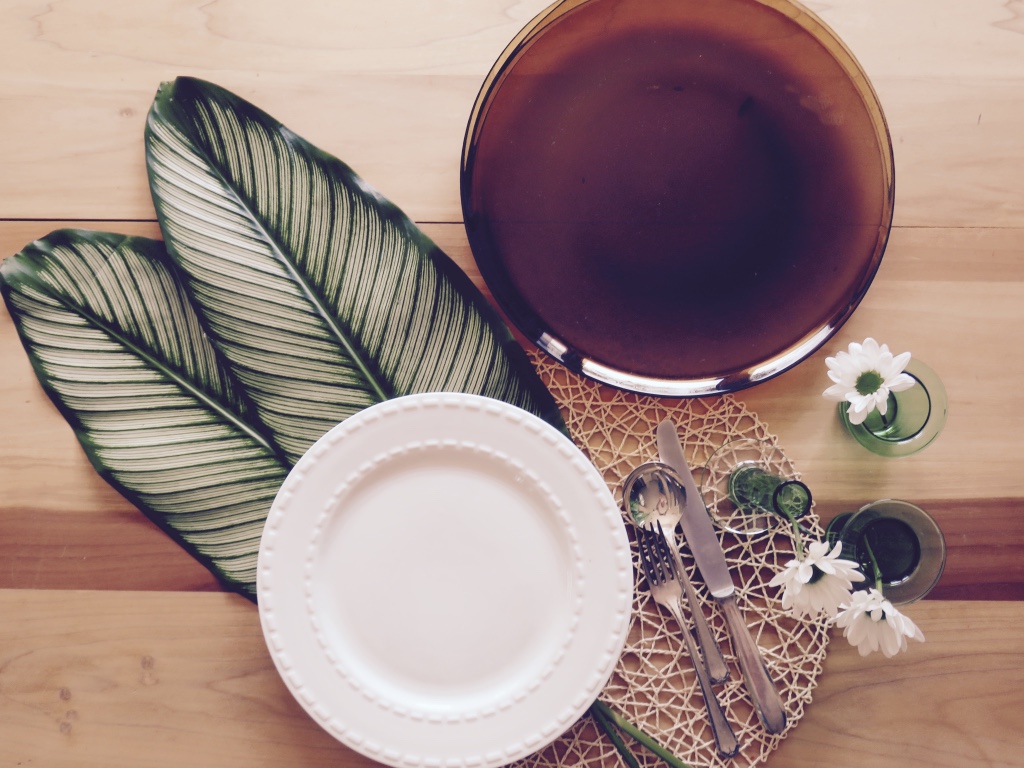 Inspiration beautiful reversible place mats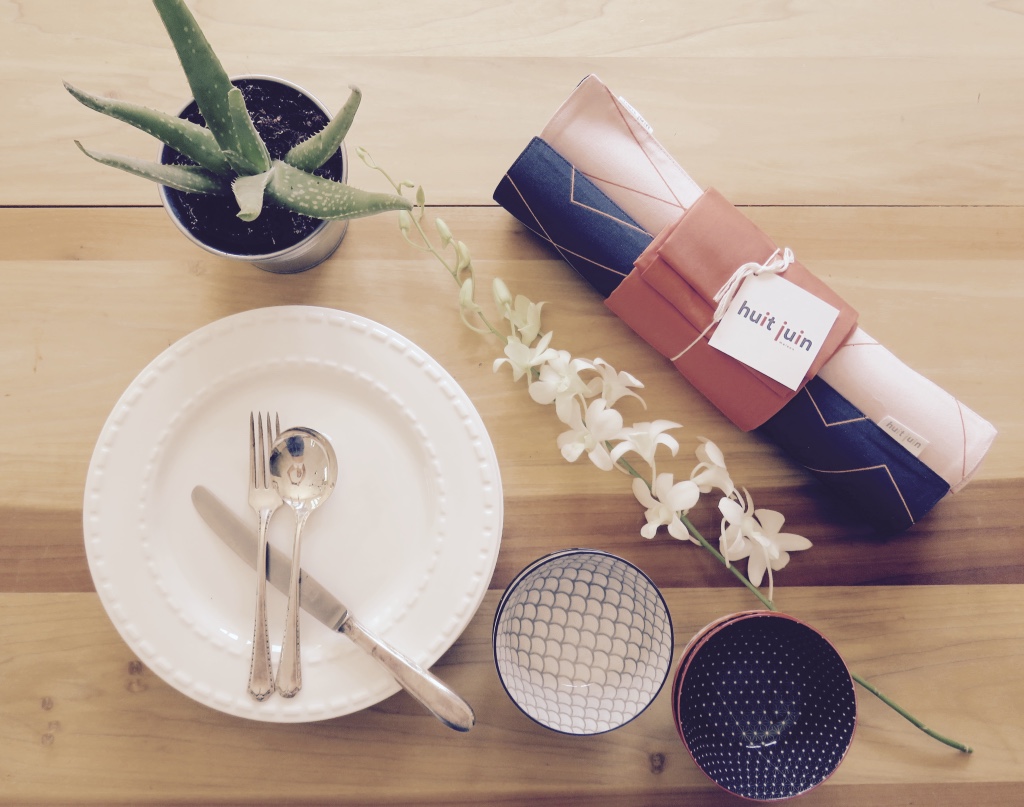 Find items that catch your eye that you really love. It could be printed or colorful accent plates, beautiful place mats, simple tea towels or even unexpected and different items!
I ALWAYS prepare my table the night before, that way in THE day of the dinner party I can concentrate on the meal and takes away a lot of the stress of having everything ready on time!
Now let's get started! The keys to dressing your table are layering and proportions. Think outside the box, have fun and do not limit yourself to the formal etiquette of what goes where. Don't get me wrong I absolutely love a very formal dinner, but they do not come around that often, so in the meantime be adventurous and enjoy a great table right here right now!
---
STEP 1
Decide on the textile or material you will be using as a place setting and position your main dinner plate. The number of guests and the shape of your table will be your guide. My go to tip is to put each plate in place then I can evaluate how much room I have to play with when dressing up the setting!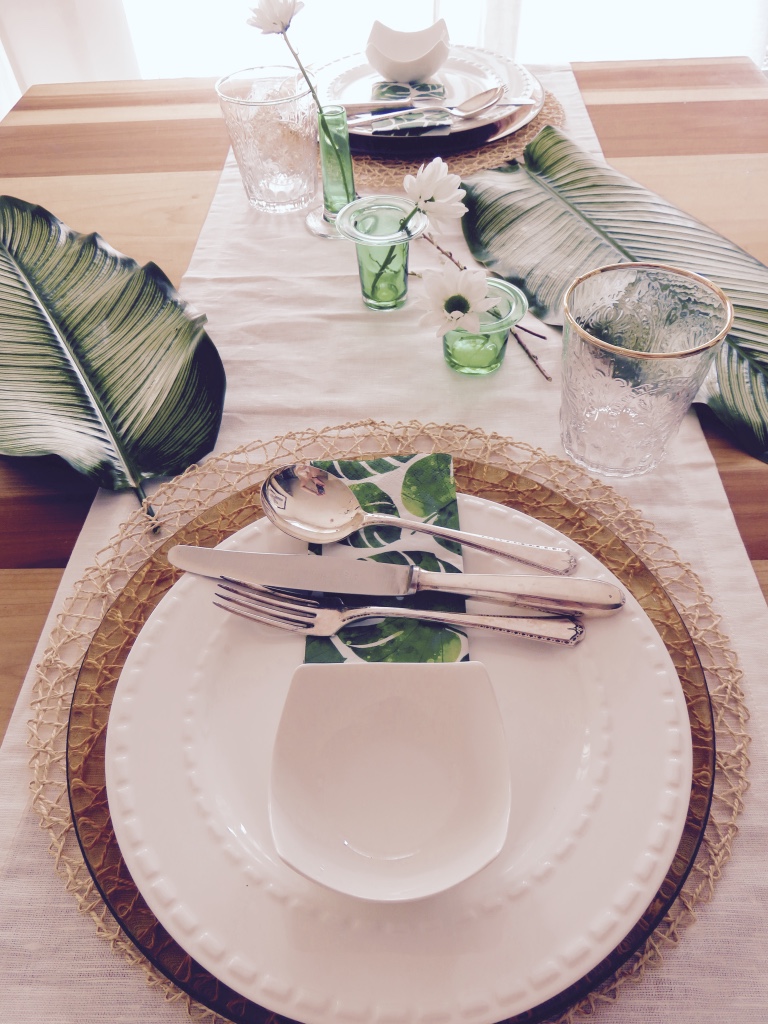 ---
STEP 2
Once you have set the main plates, it is time to have fun! If you have an accent plate or bowl, play around with them see where you want to put them. Your napkin is a great way to dress the plate. I love using paper napkins, because today we have such a variety to choose from and with the exception of a formal dinner party they are PERFECT.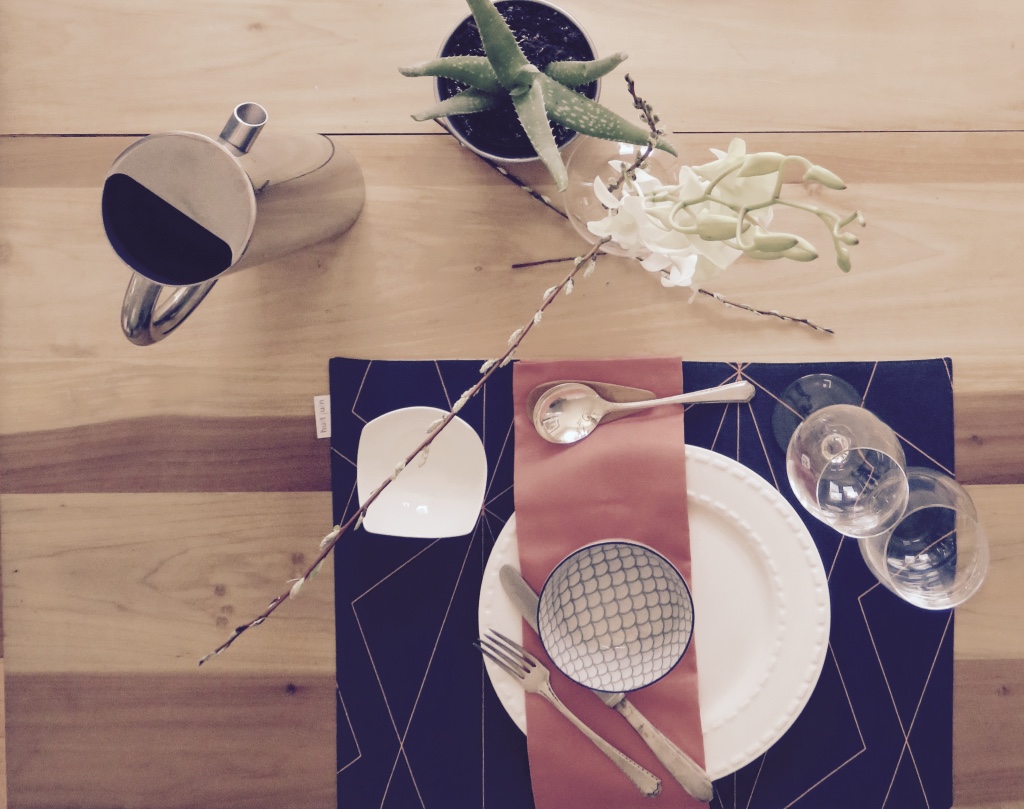 ---
STEP 3
Glassware goes almost anywhere, use it to create graphic lines, pair up water and wine glasses. But visually I prefer to always use the right side of the setting, which is the right place as per etiquette. But we have no rules, so If you did want to try it on the left... Go ahead! I DID
---
STEP 4
The silverware is the last Item I place, because I always want it to complement the setting and create a visual impact.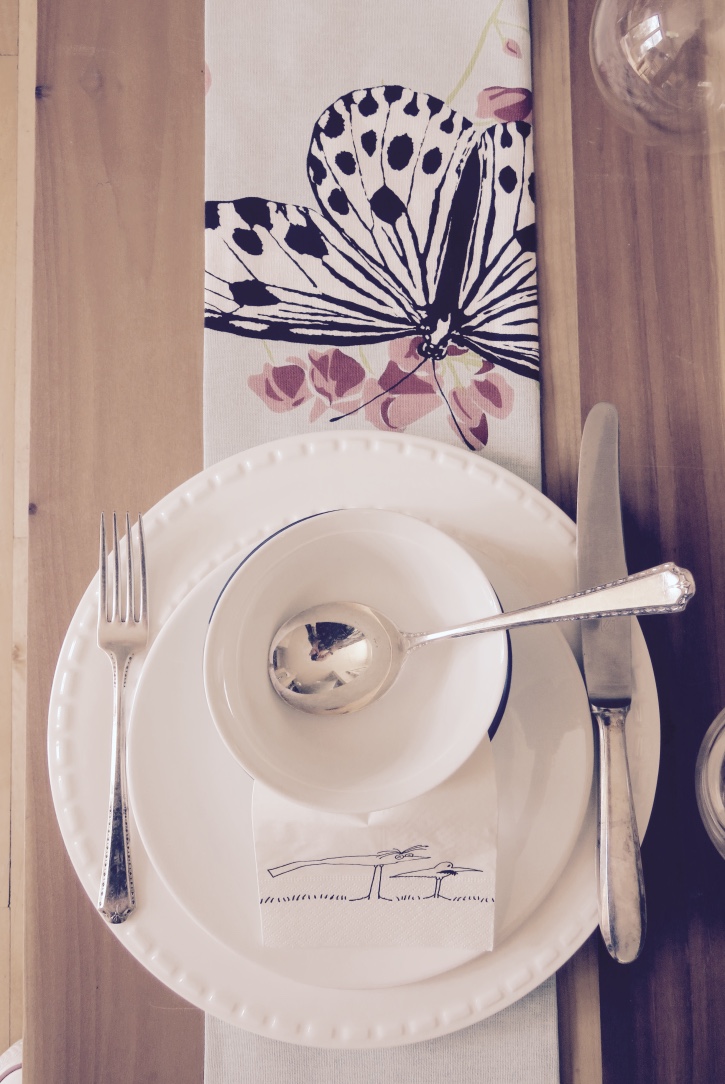 ---
STEP 5
The icing on the cake … add in your flowers, greenery, table décor. I am more of the less is more type, but sometimes I stray from my normal design signature. Especially with the tropical trend that is so in right now.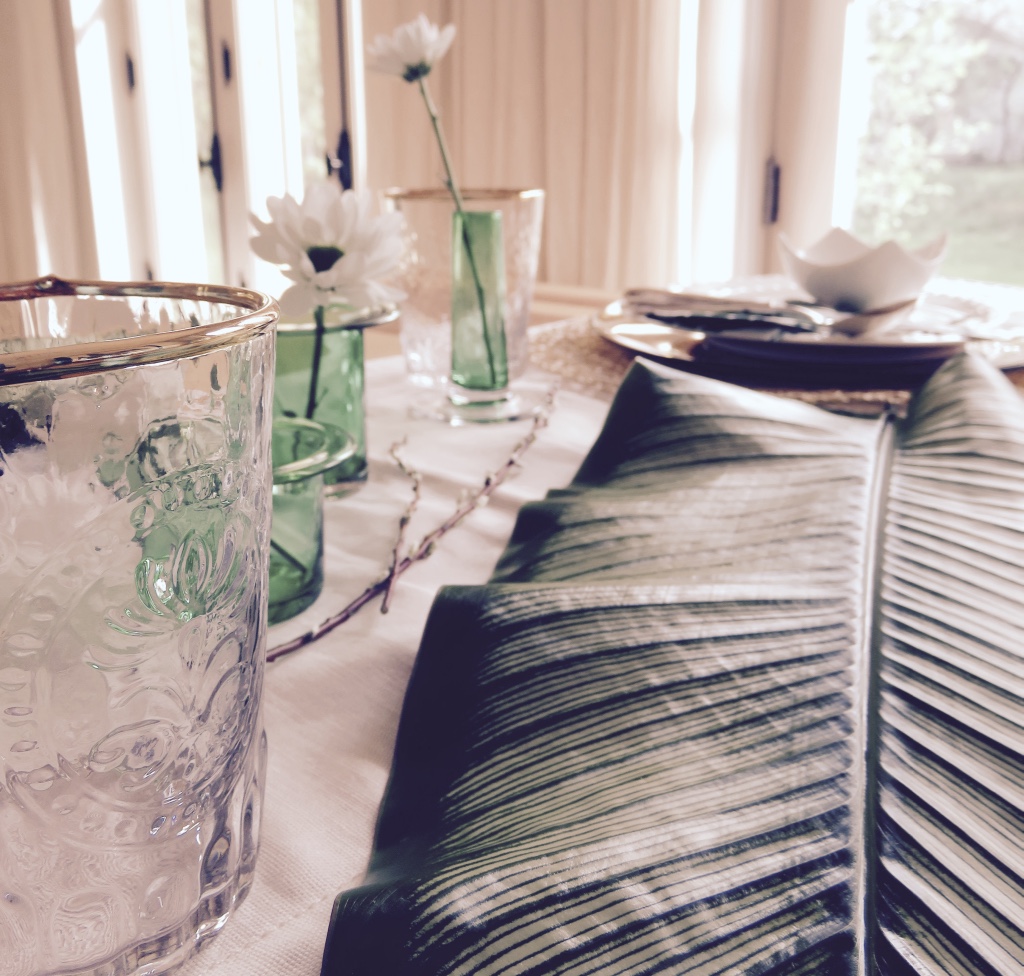 ---
We should all have a set of plain white dishes. No matter what the occasion they are the absolute best starting point for any table setting. Using the same set of white dishes I have created 4 totally different settings. It is fairly easy to build up a neutral base.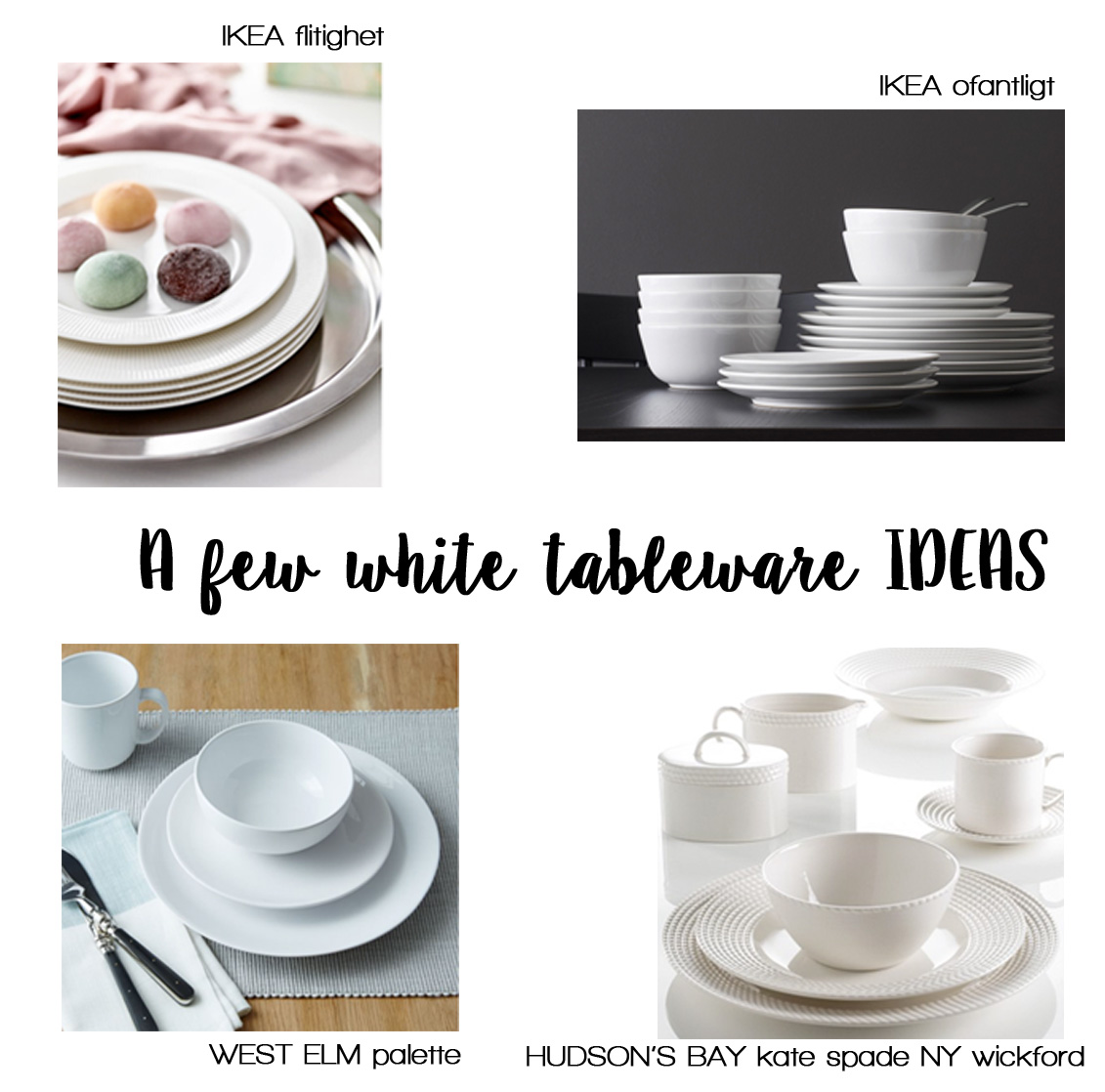 ---
Source: IKEA Flitighet - IKEA Ofantligt - WEST ELM Palette - HUDSON'S BAY KS NY Wickford
---
Option A – LOVELY TEA TOWELS
I used the tea towels to create a motif on my table, inexpensive fun paper napkins, simple glass vases and flowers to dress it up! This setting is perfect for a Sunday brunch, or a light lunch.
Perfect recipe - Ricardo's Asparagus and poached egg salad with buratta!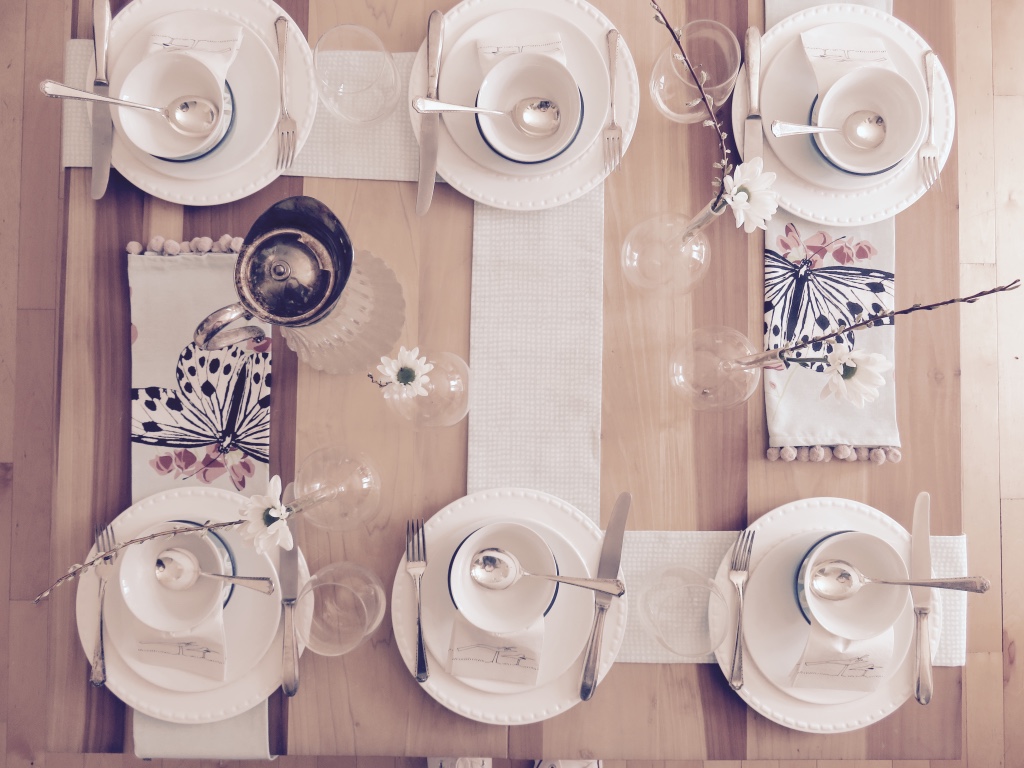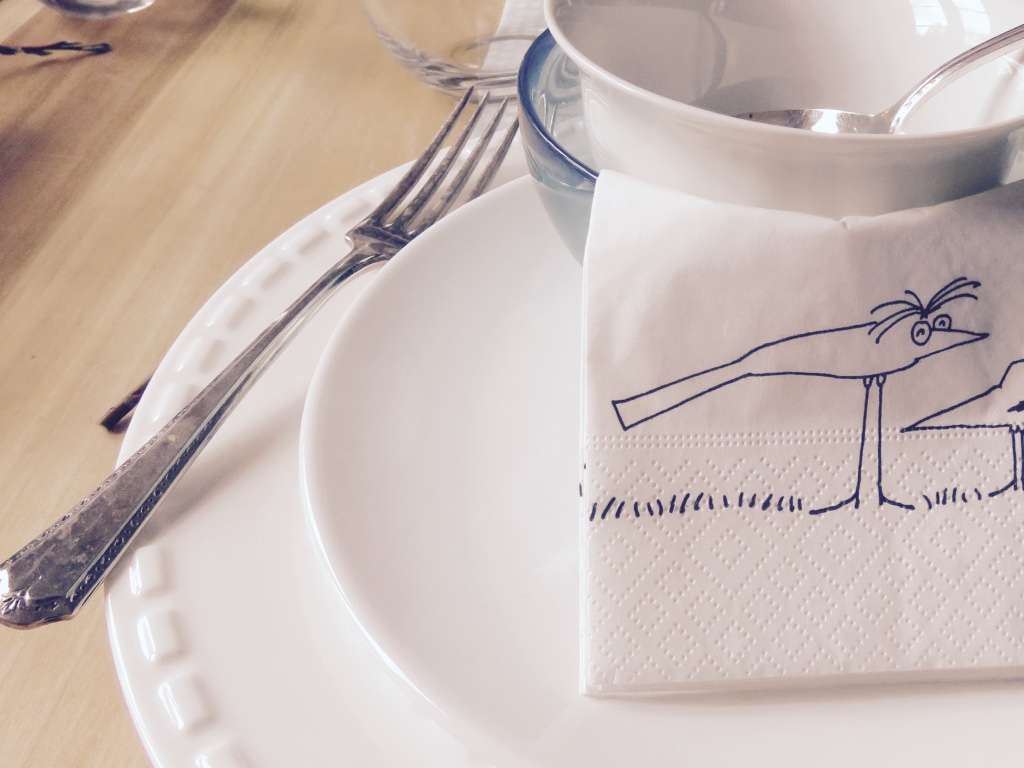 Option B – HANDMADE REVERSIBLE PLACE MATS (NAVY BLUE)
I fell in love with these handmade place mats from huit juin maison, they speak for themselves. I just added in a bit of greenery and simple white flowers. Less can be MORE! This setting is perfect for a romantic lunch or a Italian themed meal.
Perfect recipe - GOOP'S Sausage ragu with orechhiette!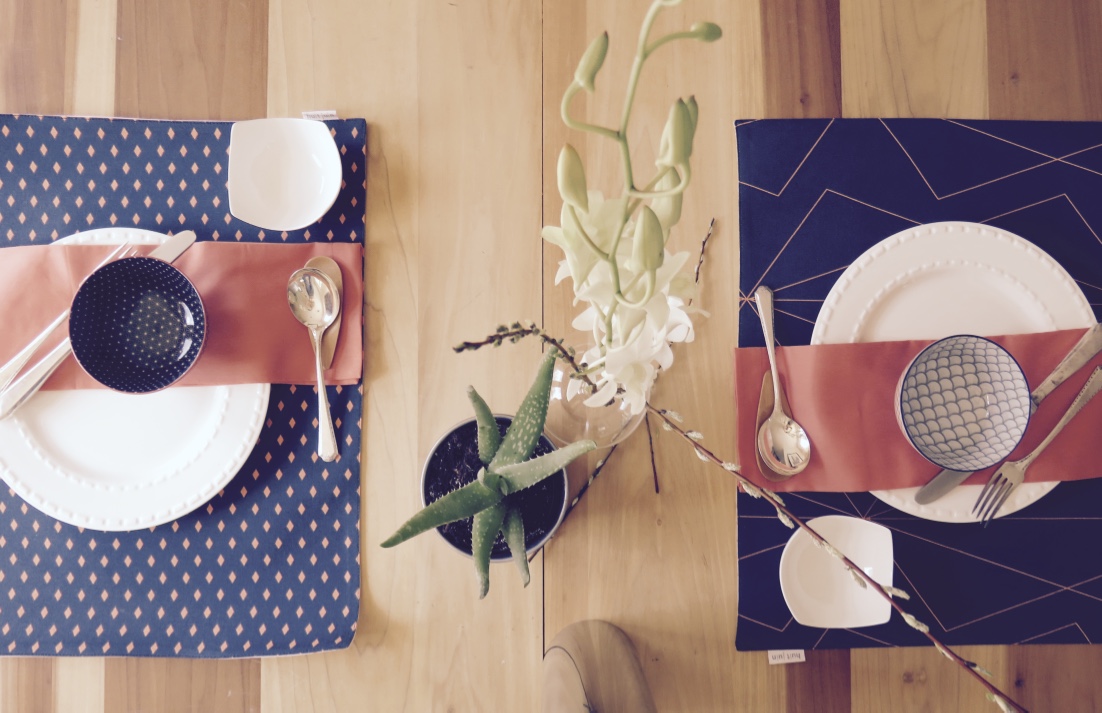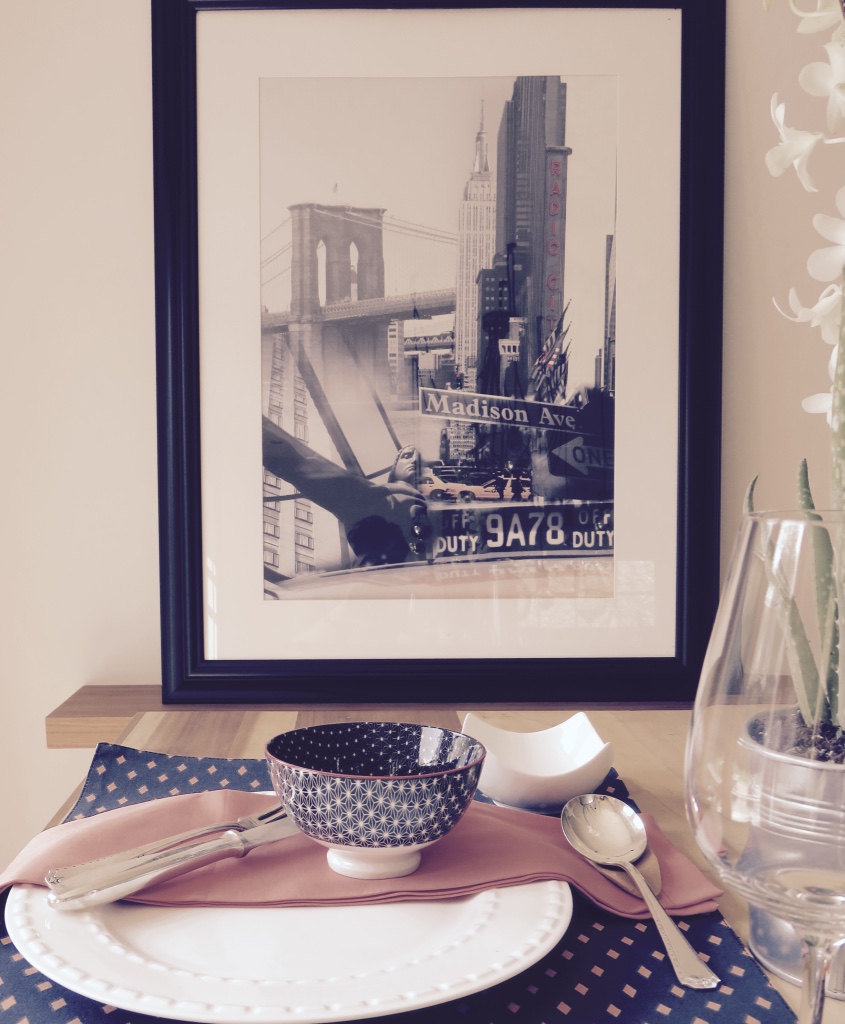 Option C – HANDMADE REVERSIBLE PLACE MATS (CORAL)
The soft pink and coral hues are stunning. Creates a calm atmosphere, great for long conversations and good food! You can also change up your artwork, a budget friendly tip, to unify and create interest around your table. This setting is perfect for a girl's night party! Bring on the cocktails! I absolutely love these amazing place mats.
Perfect recipe - Ricardo's Grapefruit tonic mocktail!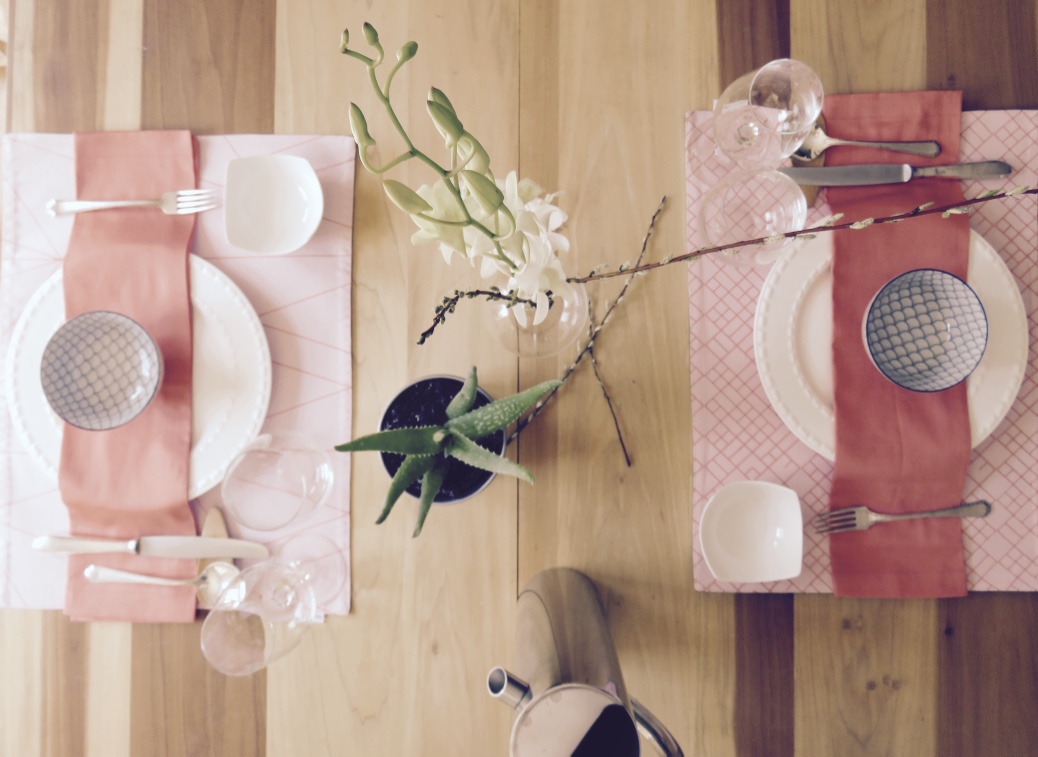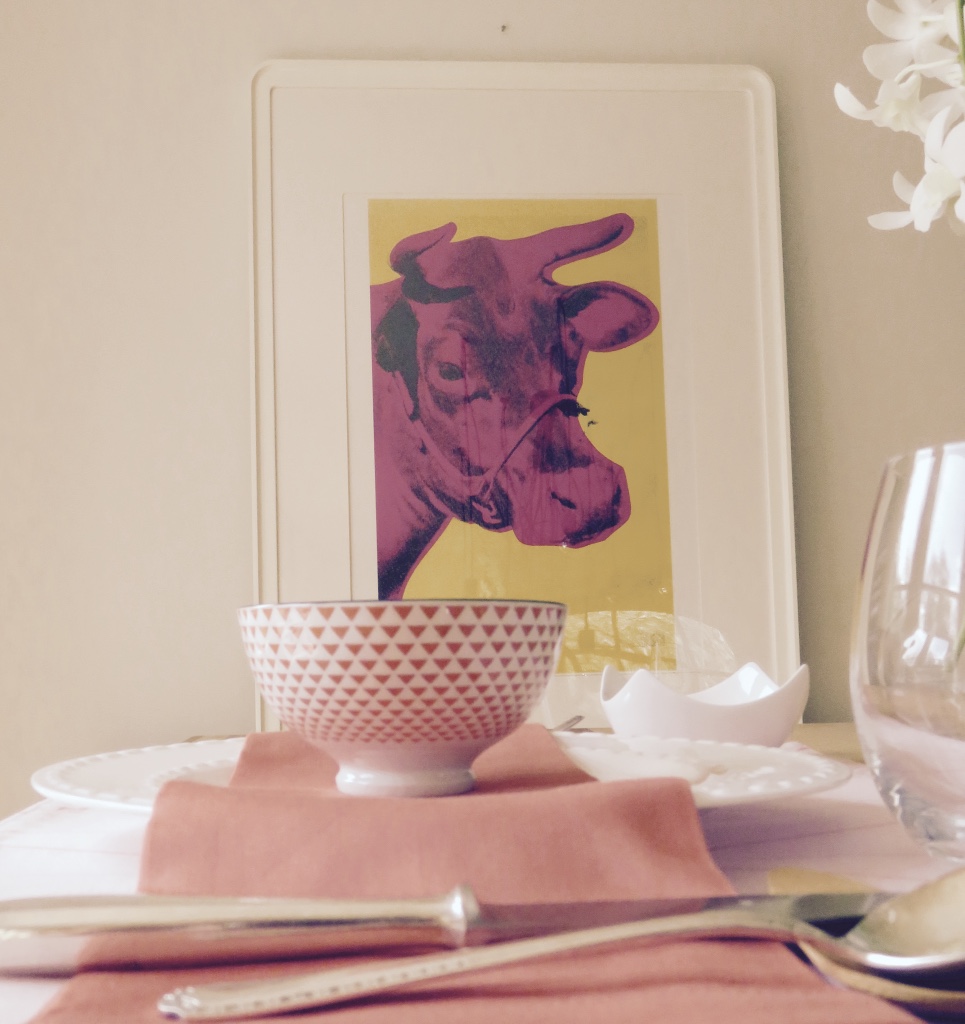 Option D – OVERSIZED LEAF AND GOLD PLATE
I was inspired by the size of this leaf, because of the really bright green. It instantly livens up the setting. This setting is perfect for your Asian or tropical themed dinner, a or even for the traditional Sunday roasted chicken dinner =) . Like I said think outside the box!
Perfect recipe - GOOPS'S Kitchen sink fried rice!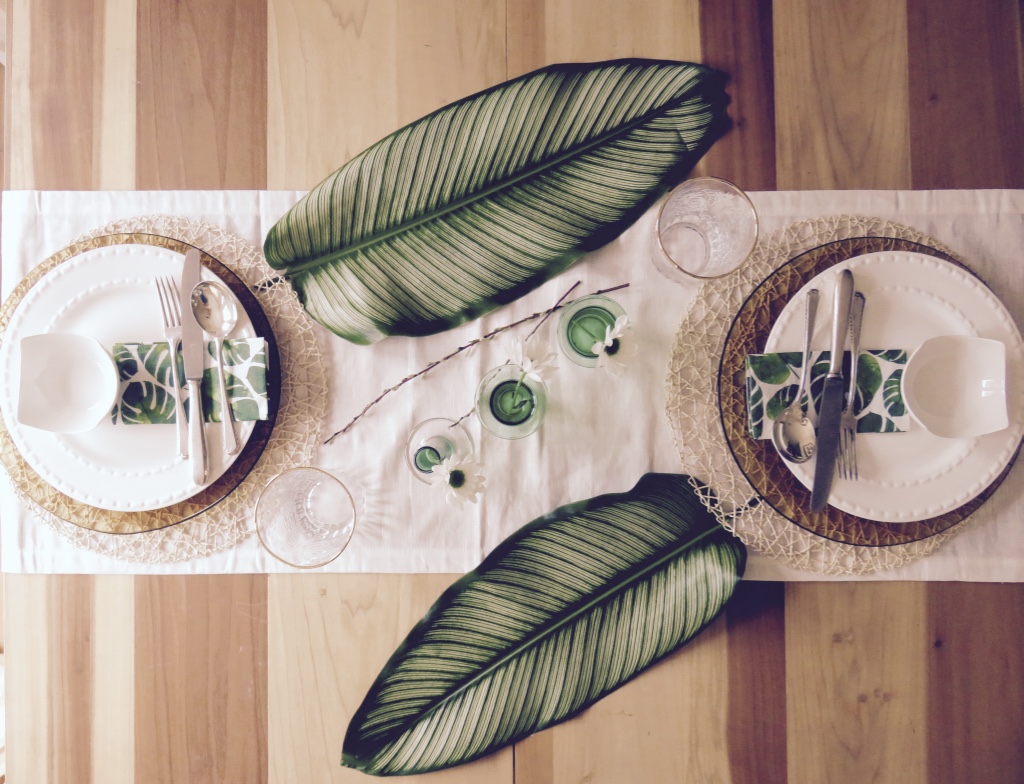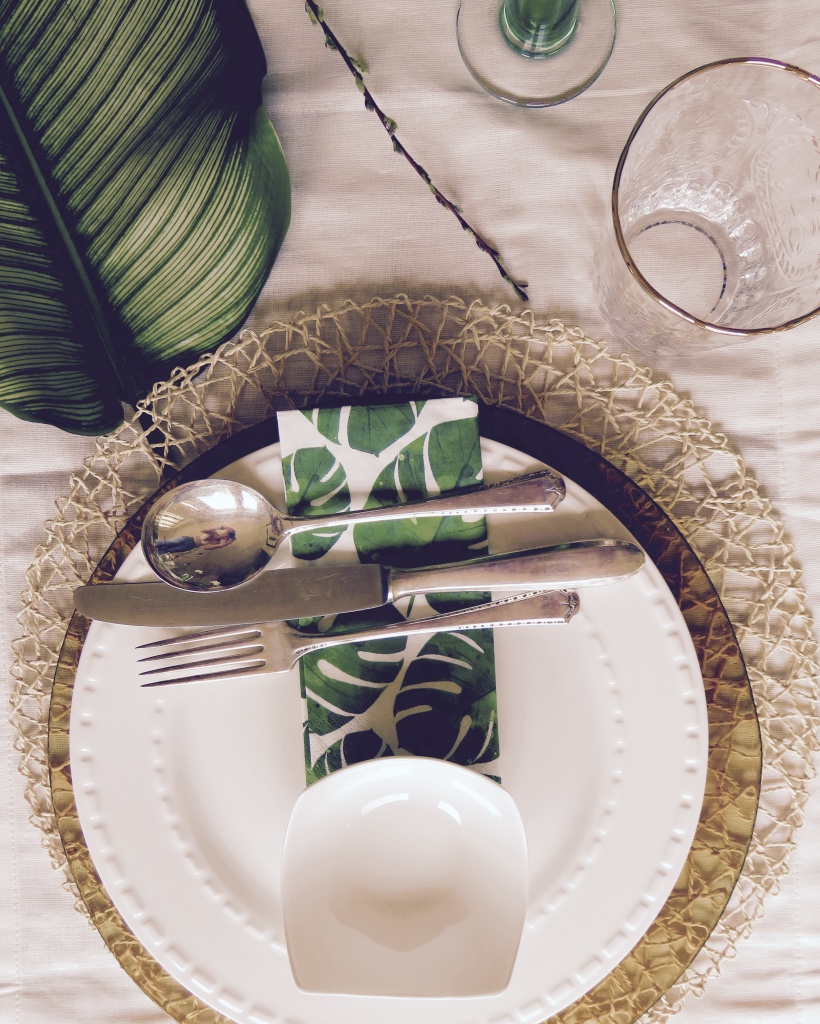 OK now time to plan!!
Caroline K