Women across Canada are kicking butt in the workforce, all while maintaining their cool and doing the things in life they enjoy. "Motivation Monday: How she does it" is a news series where we profile notable women working in various fields to find out how they juggle work-life, balance. For this installment, we chatted with Joanne Vrakas, host of Breakfast Television Montreal.
Can you describe what you do?
I host and anchor a morning show in Montreal called Breakfast Television where I'm responsible for delivering the news to people every morning, but I also provide entertainment stories and in-depth interviews with people who are either making a difference in our community or elsewhere in the world and who are stopping by Montreal. Essentially, I'm a storyteller.
What does a typical day look like for you starting from the moment you wake up?
I normally wake up anywhere between 3:45 am and 4:15 am, the latest, if I'm lucky. So I get up and I get ready to go to work. At work, I've already gone through the show the night before, but there are always, of course, many changes in the morning. So my news producer and I prepare the news, I go through interviews with my other producer, and then head into make up and get dressed. At 6 am the show starts and at 9 am it ends. Then we'll go on Facebook to do some Facebook Live coverage for the show and then afterwards the meetings start. At 9:30 am our production meeting starts and that usually lasts about 30 minutes to an hour, and then the rest of the morning is working as a team where we're booking guests and preparing the next show. If I'm lucky, I get home at noon, if not 1 or 1:30 pm, where I then become clumsy mother. Sometimes we are lucky and we have some help coming in and other days we don't. So I go straight from my 8-9 hour day to being a mom to my beautiful almost 1 year-old son, Phoenix. In between, I try to find time for me and my husband to be a couple as well, so it's a pretty packed day!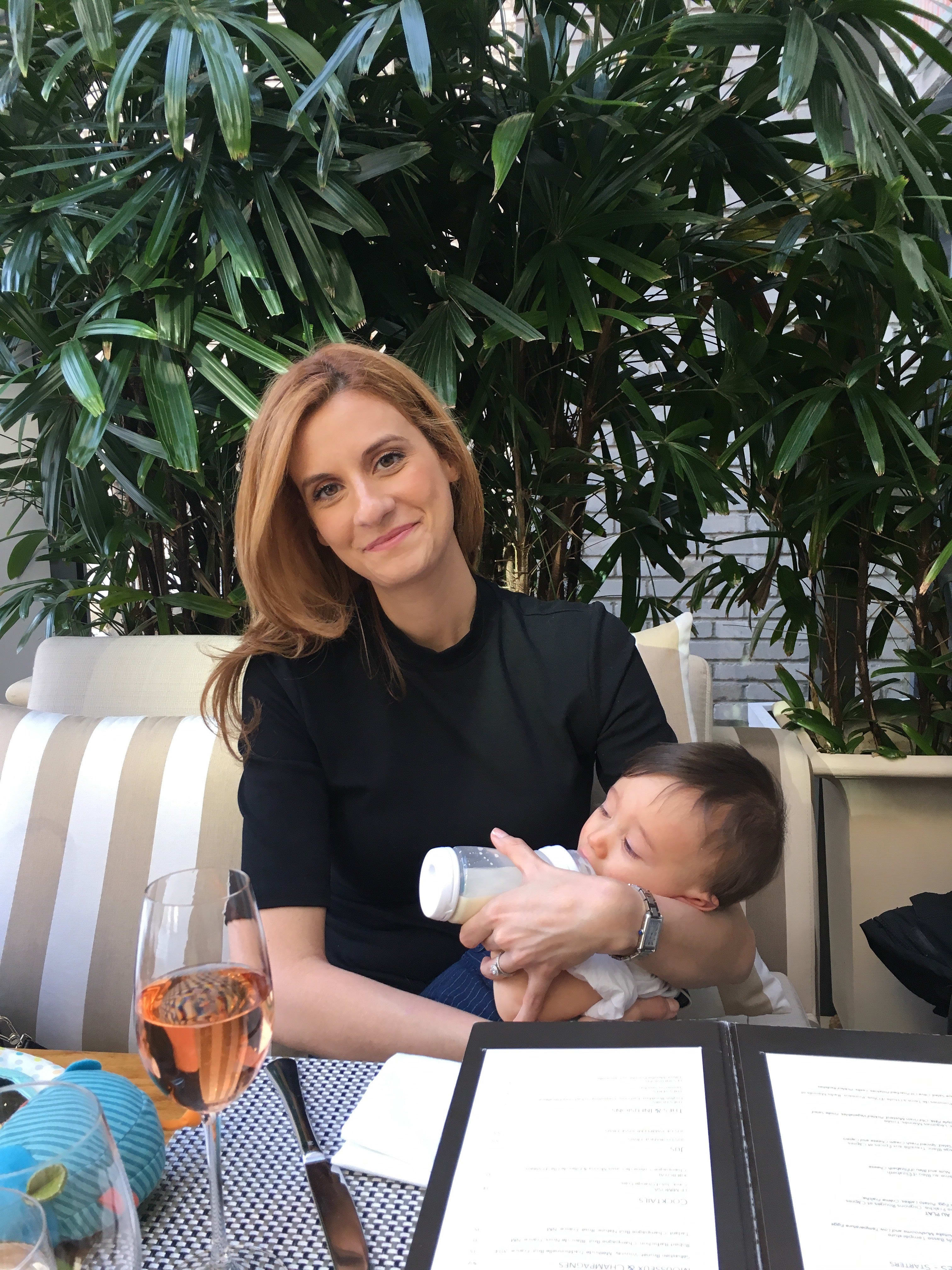 You just had your first child early last year, how has that changed your life?
I pretty much worked up until one week before Phoenix was due, and it was a very difficult pregnancy. My mom passed away due to medical malpractice while I was pregnant, so it was very traumatic. I was pregnant, at work, going through lots of changes, then I found out I had to have a cesarean. So everything was happening at the same time; losing my mom, becoming a mom. I struggled a lot with postpartum, which was a mix of mourning my mom and going through all the changes of becoming a mom, and the overwhelming sense of responsibility and love. It absolutely changed everything. On an everyday level it adds an incredible joy, but it also tends to exhaust you (laughs). My husband and I, Andre Monet, we say it's us against the world and we're figuring it out, and we hope we're doing it well.
How did you deal with all of these changes? Was there anything you did to overcome these challenges?
It's still very difficult to even think about it, because it feels like it was just yesterday that I lost my mom. You sort of have to lean on your partner and I really leaned heavily on my husband. I also thought about my mom a lot and I know she would want me to focus on being a mother and to continue working and doing the job I worked so hard to get. That was sort of the turning point. I focused on the fact that I was becoming a mom, instead of the fact that I lost a mom. We also have an incredible audience on Breakfast Television. Their messages of support and encouragement, and feeling that love really encouraged me, and helped me find that sense of normal, while I was getting ready to become a mom. I think all of those things - husband, family, work - really focused me.
Now that you're back at work and your son is almost 1, do you have any tricks to help you juggle work-life, balance?
I think there is no right or wrong, and moms should just always encourage each other. What's right for me is not necessarily right for someone else, so I'm always careful to give advice. But I think the biggest thing that I learned is don't compare yourself to other people. Especially in an age of social media where it's easy to follow people and everyone's life looks so much better and put together. I can say that my life is not put together and organized (laughs). There are days where I look at other moms and I think I should be doing this or I should be doing that, but I learned that there is no right way. Every day is a different adventure and I don't know what's going to happen, so I just need to tell myself I'm going to do the best I can. Some days I fail at that, some days I excel at that and some days I surprise myself. So my trick is really to know that everyday has its own set of challenges and every situation is different, so don't put that pressure on yourself that you're not doing it right, because you probably are. Give yourself that pat on the back and it will relieve some of that stress.
And when you're not working and being a mom, how do you like to unwind?
Reading has always been a big source of calm and escapism for me. I love reading and I love books, but I haven't been able to sit down and finish a book in a while. I went to the bookstore the other day and I picked up a book called The Goldfinch that everyone is telling me that I have to read, but when I was driving home it occurred to me that I probably won't have the chance to read it any time soon (laughs)! But a good book and a glass of wine has always been a great way for me to unwind.
Choose one: wine or cocktails? Why?
Champagne for me! Anyone who knows me will tell you champagne, and then wine (laughs).
And what is the best advice you have ever received?
I've received a lot of advice and I don't think there's such a thing as bad advice. Even if certain advice doesn't fit you and your life, I think it's always good to listen. What I've learned though is that we should live in a way where if you can put your head on your pillow at night and feel ok about the day; great! If you can feel ok about the day, about what happened, then that's a good day. If you can go to sleep knowing you've done your best, I think that's key and you're on the right track.
How do you define success?
I think as you grow your definition of success changes, but at the end of the day, if you can leave the world - your loved ones and your family - better off then when you found them, I think that's success. Even if it's a small contribution, leave the world in a better place than you found it. That's my definition of success.
Do you know someone we should feature in this segment? Send an email to [email protected]